Our Food
There is nothing quite like good food. That's why all our food starts with great ingredients sourced from reputable suppliers. Are you looking for something truly local? We choose local vendors and products whenever possible.
We make all of our bagels, shmears, and pastries in house, using our own tried and true recipes, and all our bagels are made fresh daily. Need proof? You can see our kitchen with your own eyes. That way, you can order anything on our menu with confidence.
Looking for vegetarian or vegan options? We've got you covered. Most of our bagels are naturally vegan.
Our Bagels
Bagels just might be the perfect food, especially fresh out of the oven. That's why we make our traditional boiled bagels in house daily, using simple and high quality ingredients. Our bagels are boiled to get a crisp crust, baked to a chewy perfection, then topped with the best toppings we can find. Whether you are a tried and true traditionalist or prefer something more adventurous, we have something for everyone.
Feeling a bit hungrier? Try one of our breakfast sandwiches with a made to order fried egg, or add some thick sliced bacon. And if you are a late riser, give one of our lunch sandwiches a try with your choice of fresh sliced deli meats and crisp veggies.
Our Shmears
Nothing goes together quite like a bagel and shmear for a tasty start to the day. All our shmears are made in house, using the best cream cheese we can find, then double whipped with scrumptious ingredients like chives, garlic, and even bacon and horseradish. Or satisfy your sweet tooth with our chocolate chocolate chip or maple shmears. They go great on a cinnamon swirl bagel.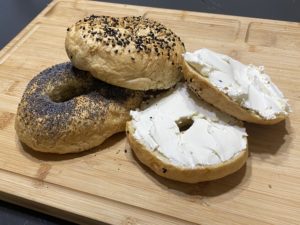 Our Coffee
Tired of having to make a second stop for your morning coffee or latte to have with your bagel? We are too. That's why we have a full service coffee bar serving craft espresso drinks, teas, and more.
Every drink we make starts with outstanding beans roasted by Cat and Cloud in Santa Cruz. Then we steam milk from local producers for a smooth coffee that will get any day off to a good start.
Prefer iced? No problem. We also have a great selection of iced drinks, including cold brewed coffee and iced chai lattes. And for the non-coffee drinkers, try an Italian soda with cream.
Not a fan of dairy? We also have barista blend alternative milks, including oat, almond, and soy.