Our Philosophy
Good Food, Good People, & A Little Coffee
There is always room for a little more joy in the world, and that is exactly why Bubbs' Bagels & Coffee was started, to create a little happiness through tasty food, craft coffee, and a little place in the Livermore community to escape with friends and family.
To make that dream a reality, we start with high quality ingredients that are transformed by our hand picked team into simple yet outstanding creations that will satisfy both the adventurous and traditionalist alike. We can't wait to share our passion with you.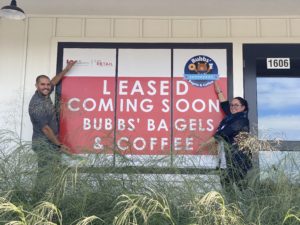 Our Food
Simple Ingredients Make Grand Meals
There is nothing quite like good food to feed the soul. That's why everything we make starts with high quality ingredients, a tried and true recipe, and a little bit of love. And keeping our planet and community in mind, we use local and sustainable sources whenever possible.
Our authentic boiled bagels are made from scratch daily, and our whipped shmears are always made in-house with fresh and flavorful ingredients. Or kick off your day with a breakfast sandwich topped with a fresh fried egg.
Tired of having to make a second stop for your daily coffee? We are pleased to offer a full range of craft espresso drinks that always start with coffee beans roasted by Cat & Cloud in Santa Cruz. And need something sweet with your morning brew? We also have in-house cookies daily and fresh pastries on weekends..
Our Journey
A Little Positivity Goes A Long Way
Davis & Rae Gunderson started developing Bubbs' Bagels & Coffee with a dream of creating something positive in the world. After moving to California with Rae in 2015 and working in healthcare for several years, Davis became disillusioned. Discontent with the employer/employee dynamic he experienced, he wanted to do things differently. He began dreaming of opening his own business, one that's better aligned with the needs and wants of the team members and customers.
As long time foodies, the kitchen was always a place of joy and happiness. Davis learned to cook as a child at his mother's side and ever since has loved cooking new and interesting foods, while Rae developed a real skill and passion for baking sweet treats. Combine that with an incredible love of coffee and what choice was there? It was time to open a bagel and coffee shop.
Finally, in 2022, their dream became a reality, and Bubbs' Bagels & Coffee launched in Livermore, CA. What more can we say about us? Not sure, the rest of the journey is still being written.